Black and gold, a timeless color combination that exudes sophistication and glamor, is a stunning choice for wedding guest attire. Whether you prefer a formal, elegant look or a more relaxed, bohemian vibe, black and gold have something to offer every wedding guest. The versatility of this color pairing allows you to express your unique style while still adhering to the dress code. So, check out these style inspirations below and get ready to turn heads with your black and gold wedding guest attire.
Brides Often Ask
Is it OK to wear black and gold to a wedding as a guest?
What Colors should guests avoid at weddings?
What not to wear to a wedding as a guest?
Elegant Black And Gold Wedding Guest Attire
The elegant black and gold guest dress exudes sophistication and refinement. A well-crafted black dress with subtle or prominent golden detailing, such as ornate beading or delicate sequins, can be a showstopper.
To accentuate your outfit, consider complementing it with sleek black heels and statement gold jewelry that echoes the shimmer of the dress. Also, make sure to choose a cut and silhouette that flatters your figure. This combo is perfect for making a statement at a wedding.
@costarellos via Instagram
i
Save to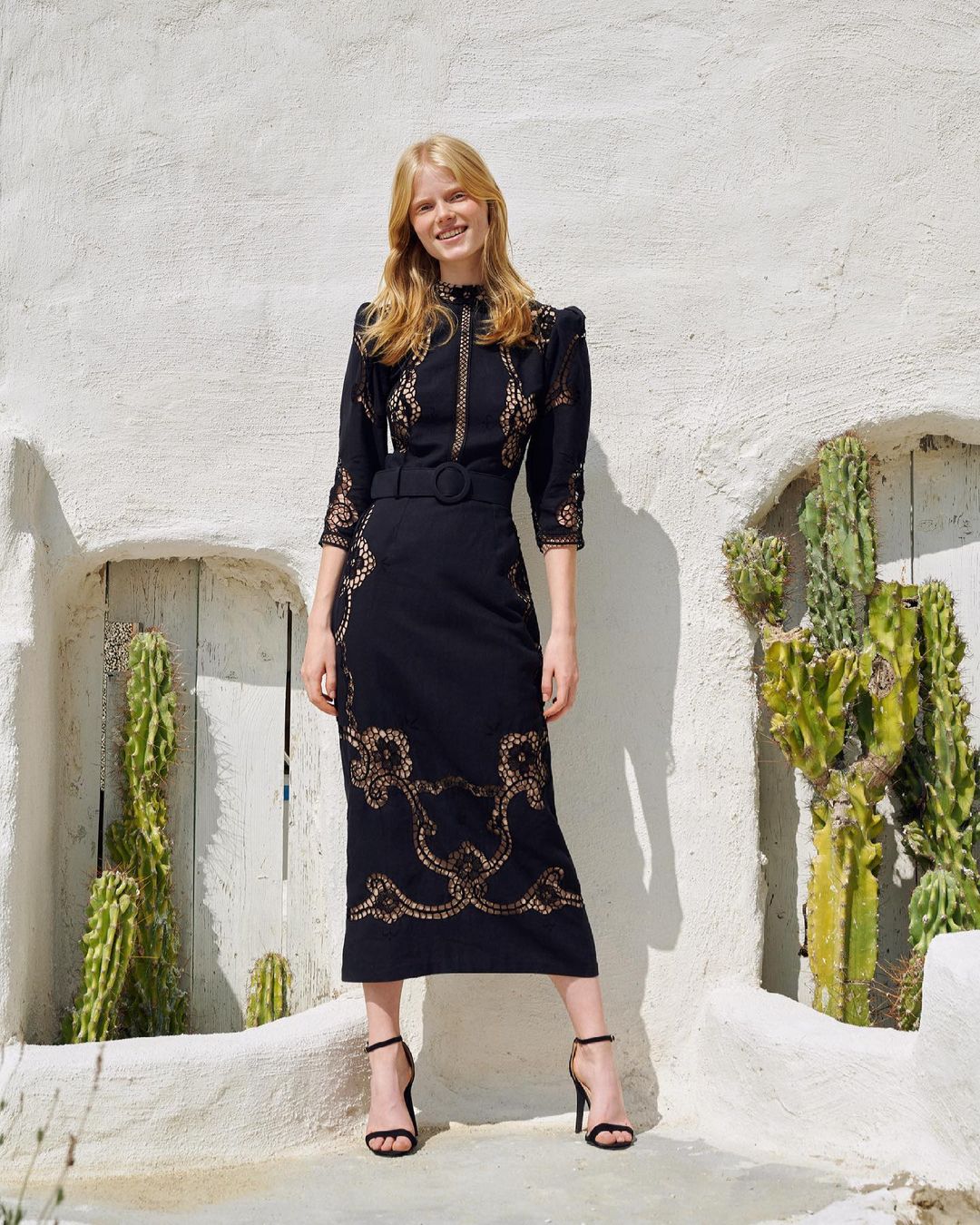 Long Black and Gold Dress Ideas
A long black and gold theme attire is a classic choice for any formal wedding celebration. A long black gown with gold accents, such as beading, metallic threading, or intricate embellishments, is a popular option.
Consider opting for a floor-length wrap dress or a form-fitting, mermaid-style gown to flatter your figure. Also, you can choose black or gold heels and complement the outfit with statement gold jewelry, such as chandelier earrings or a glittering clutch.
@whiterunway via Instagram
i
Save to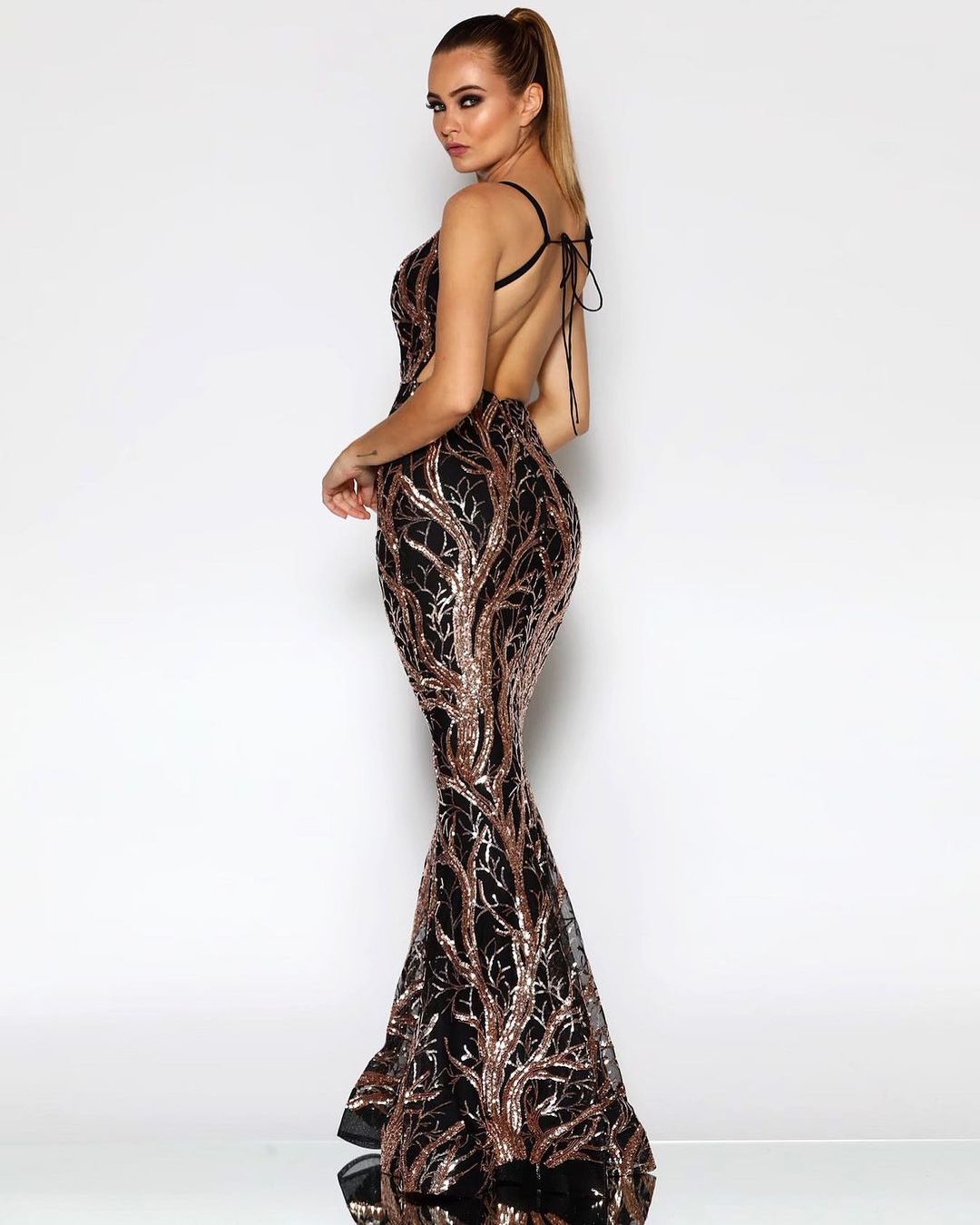 @whiterunway via Instagram
i
Save to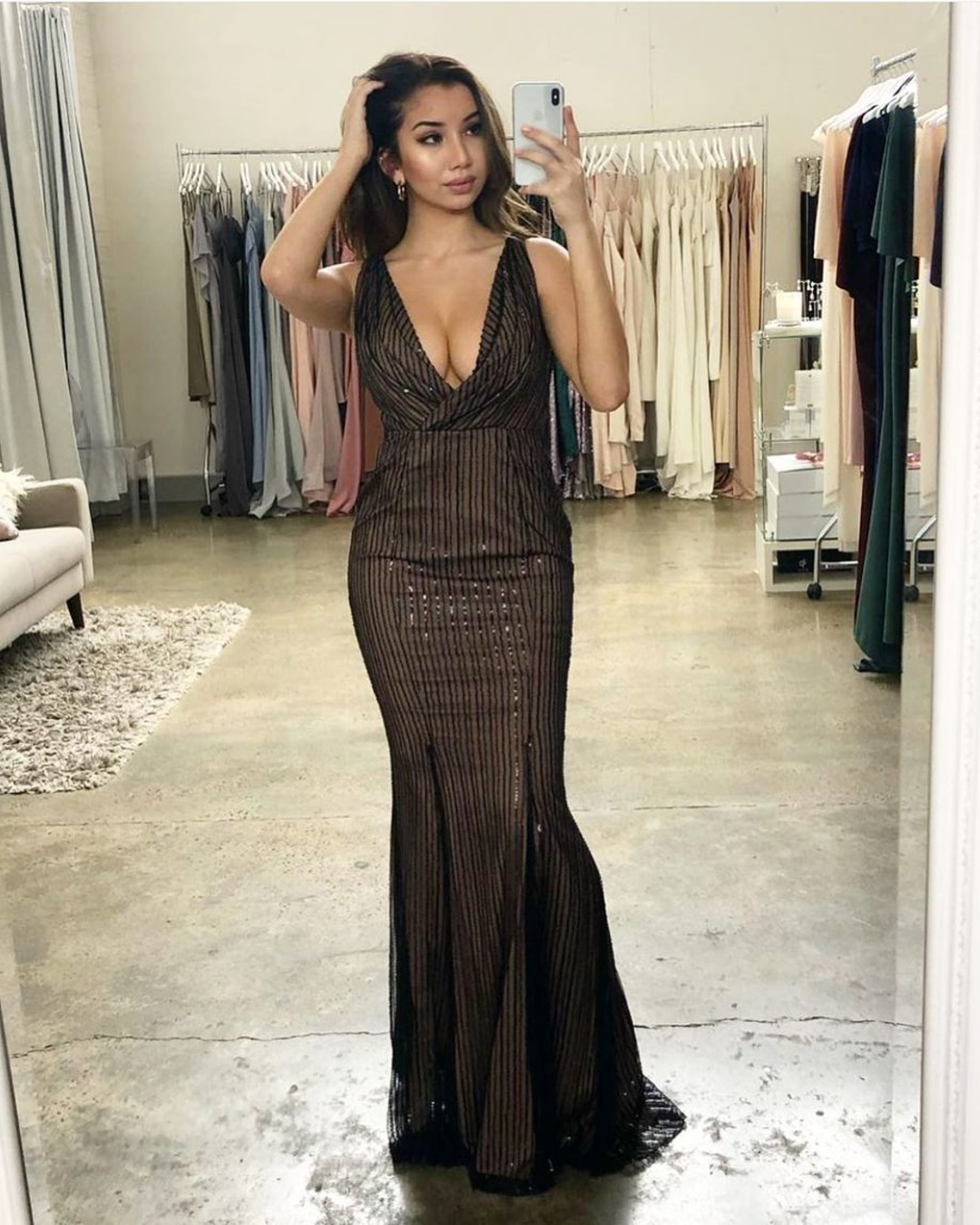 Midi Dresses for Guests
The mid-length black and gold attire strikes the perfect balance between formality and ease, making it a versatile and stylish option for a wedding guest. Flattering silhouettes such as the fit and flare style or a sleek, understated cut with a glistening golden waistband are both popular choices.
To further elevate the ensemble, consider partnering the dress with sleek black or radiant gold heels. Also, this dress can showcase intricate details such as metallic threads.
@carlaruizcostura via Instagram
i
Save to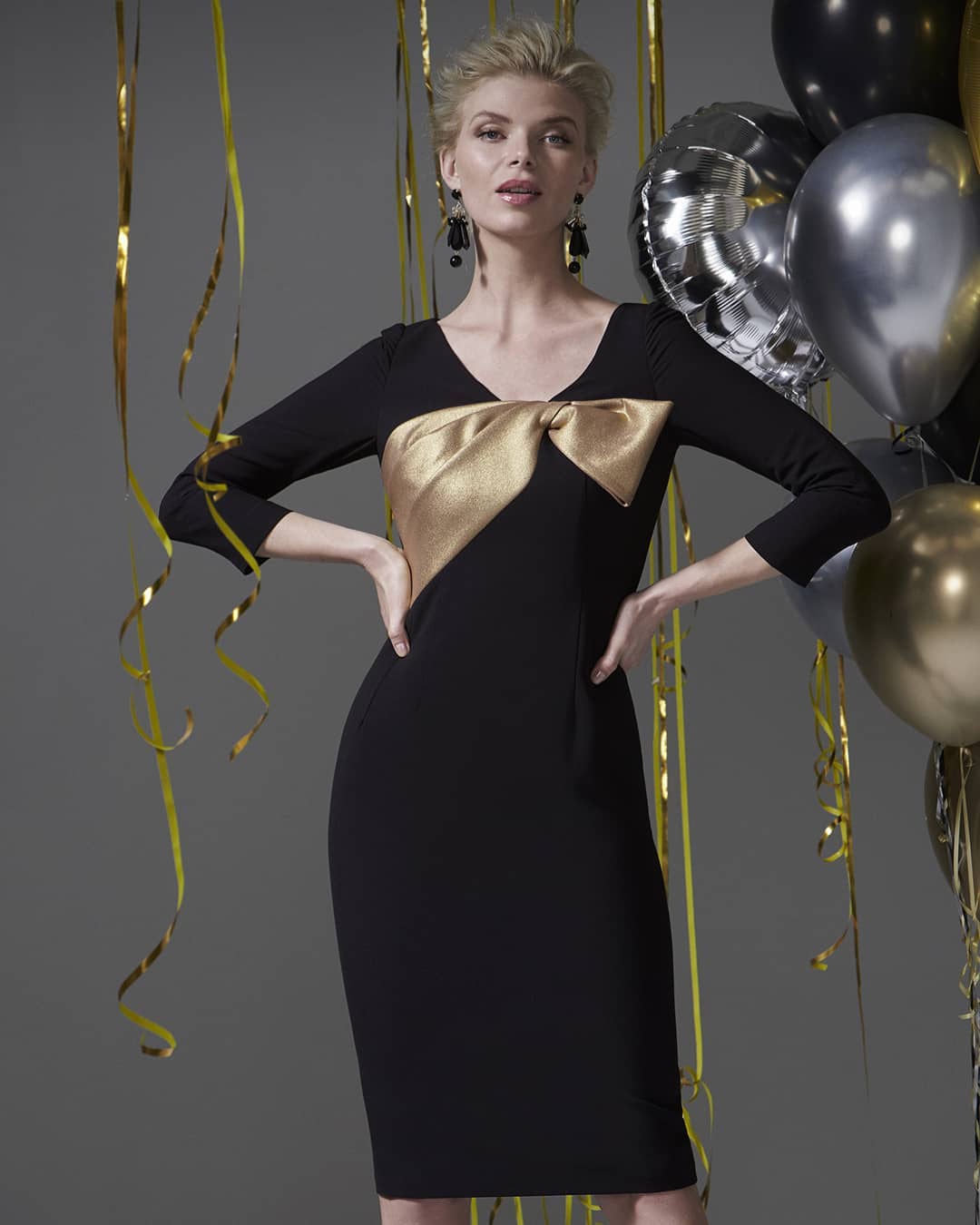 Short Black and Gold Dress Ideas
To make a stunning entrance at your next wedding, show up in a short black and gold wedding guest dress. Opt for a style that features a fitted black bodice and a shimmering gold skirt, designed to hug your curves in all the right places.
To complete the outfit, carry a clutch in a contrasting metallic shade, such as silver or bronze. With this stunning attire, you are sure to turn heads and be the belle of the ball.
@_zhivago_ via instagram
i
Save to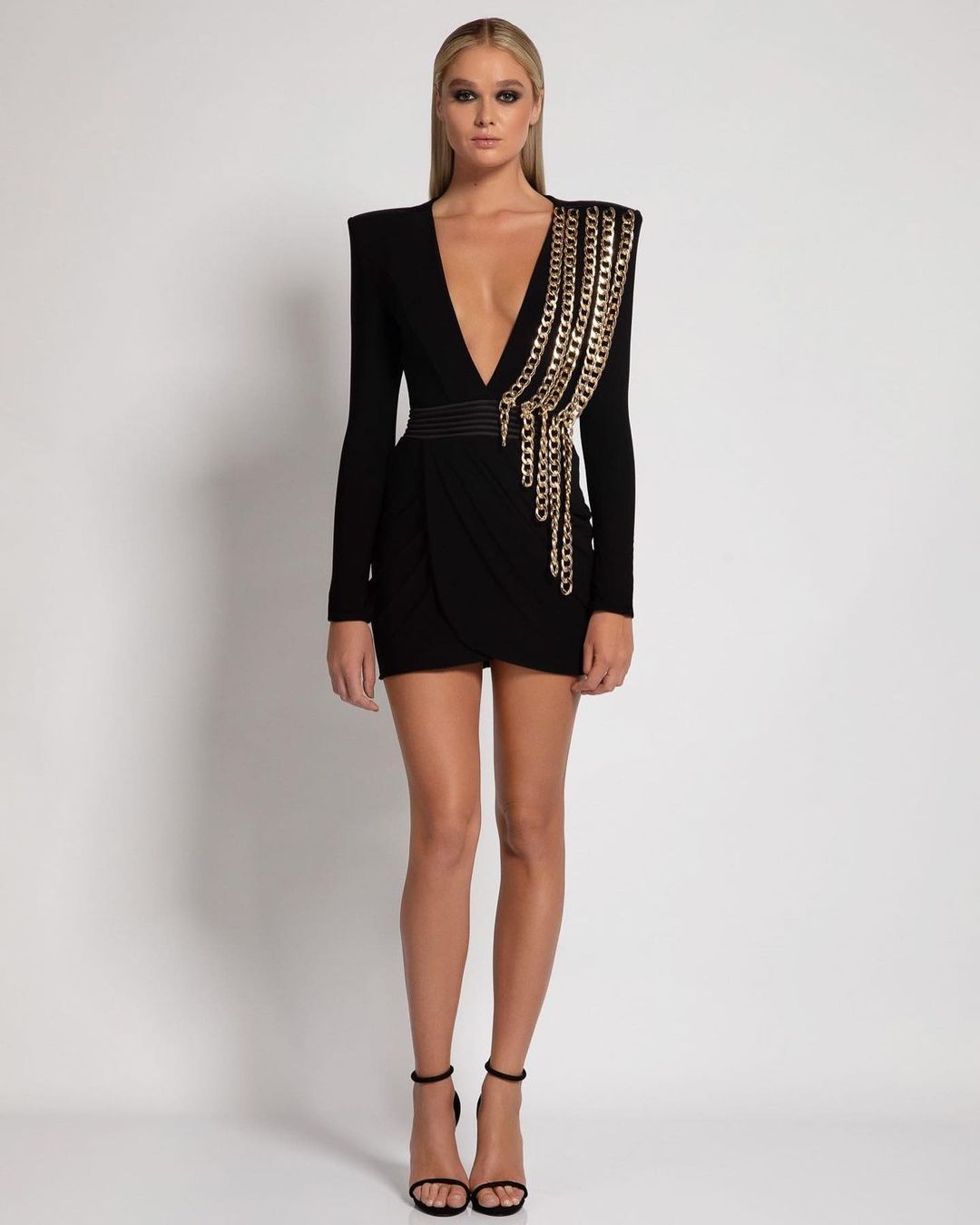 Dresses with Long Sleeves
Black and gold attire with long sleeves features rich black hues combined with shimmering gold accents, creating a mesmerizing contrast. The long sleeves offer both comfort and style, making them a perfect choice for cooler-weather weddings.
Look for styles that are form-fitting to accentuate your curves and cinch at the waist for added definition. For a better finish, pair with understated gold heels and simple jewelry, letting the dress shine as the centerpiece of your outfit.
Black and Gold Pantsuits
Black and gold pant suits create a chic and polished look that is suitable for both formal and semi-formal events. The key to pulling off this look is to balance the dark hue of black with the metallic shine of gold.
Opt for a well-tailored pantsuit in a matte black fabric with gold-tone buttons, zippers, or pocket accents for a subtle touch of shine. This black and gold semi-formal attire is perfect for a guest who wants to make a lasting impression.
@carlaruizcostura via Instagram
i
Save to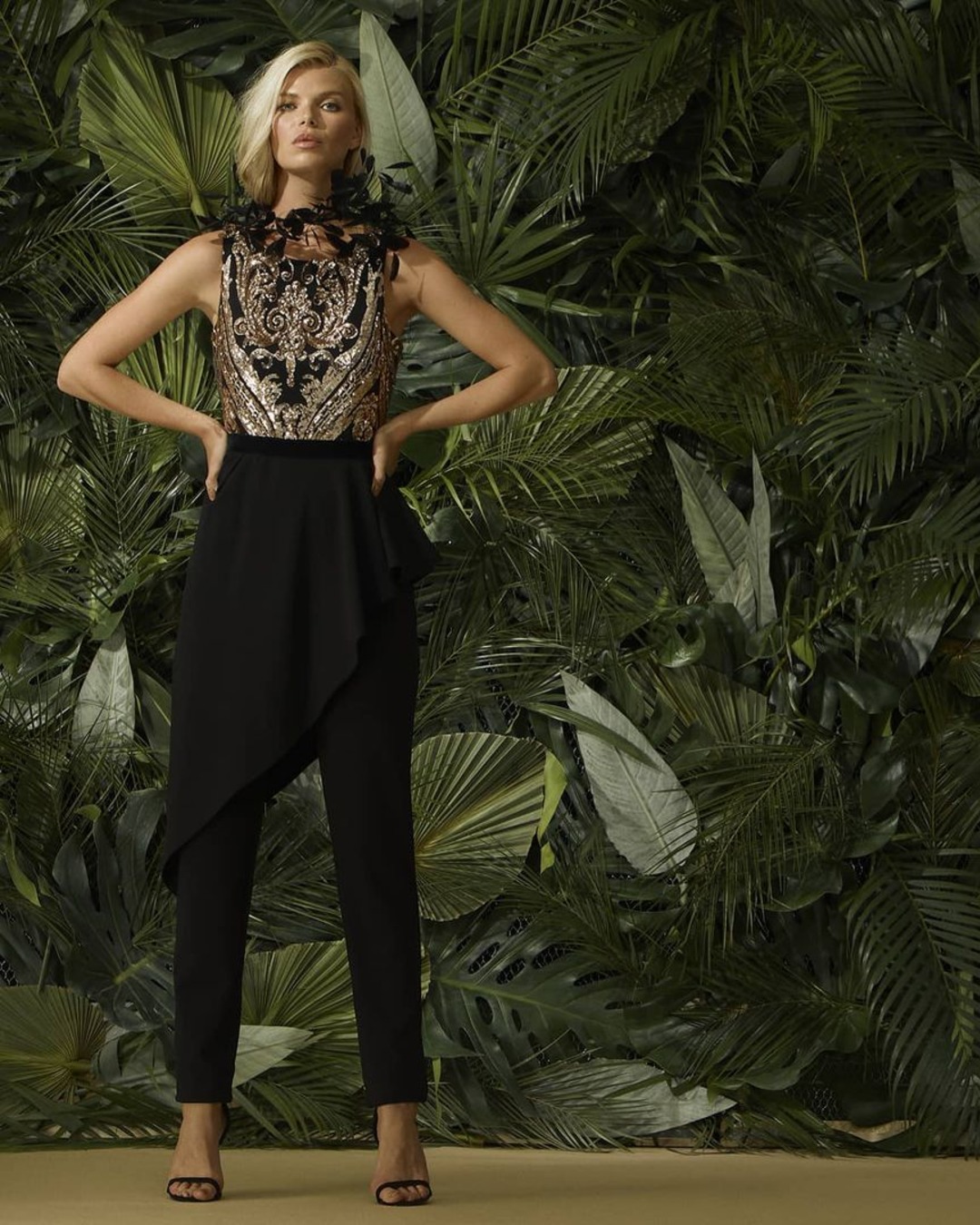 Plus Size Wedding Guest Looks
This plus-size black and gold attire comes in a variety of styles including A-line, fitted, maxi, and wrap. To enhance the opulent vibe, look for dresses with embellishments like beading, lace, or sequins.
Also, pair it with metallic heels and simple jewelry for a polished look. As a tip, choose a style that emphasizes your best features. Go for a cinched waist or a V-neckline to elongate your silhouette and draw attention to your face.
Black and Gold Wedding Guest Attire For Men
Make a statement in this men's black and gold evening attire, exuding effortless style and class at any formal event. You can achieve this timeless color combination through a sleek black suit or tuxedo paired with gleaming golden accents, such as a radiant tie, a shimmering pocket square, or brilliant cufflinks.
The finishing touches, such as black dress shoes and a black belt, tie the entire look together, creating a polished and dashing ensemble.
When it comes to black and gold wedding guest attire, it is important to consider the formality of the event and dress appropriately. Also, pay attention to the details, such as the fabric and fit, to ensure you look and feel your best. With its timeless charm and effortless sophistication, black and gold attire is a winning combination for any wedding guest.